Crypto Spotlight – Brickblock & Gnosis
03/22/2018 @ 18:30

-

21:00

|

Free
Crypto Spotlight – Brickblock & Gnosis, March 6, Berlin
PLEASE RESERVE A FREE EVENTBRITE TICKET TO ACCESS THIS MEETUP. THE AMOUNT OF TICKETS IS LIMITED AND YOU CAN ONLY ACCESS THE EVENT WITH A VALID TICKET. Reserve your Ticket here: https://www.eventbrite.de/e/crypto-spotlight-brickblock-tickets-44141485371
---
All your colleagues, your in-laws and your favourite rappers are talking about cryptocoins. You probably have a feeling, that there is hardly a startup left, which is not doing their ICO. But how do you recognize serious crowdfunding campaigns and crypto – projects? And would you be able to launch an ICO of your own? Which challenges would you be confronted with?
IN THE SPOTLIGHT – BRICKBLOCK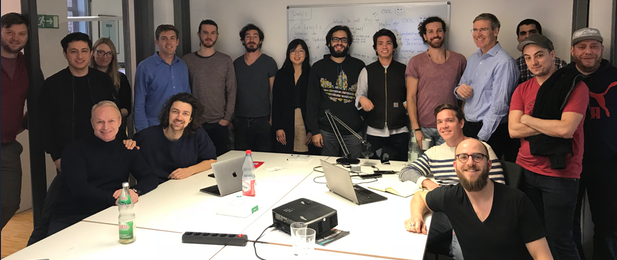 Brickblock is a well-known prop-tech startup who started their ICO campaign in the summer of 2017. They will explain us how to launch an ICO as well as the lessons they have learned during their campaign and share some of their future plans with you.
IN THE SPOTLIGHT – GNOSIS
Gnosis builds revolutionary market-driven forecasting technology. After facing some serious limitations with existing crypto exchanges, Gnosis decided to work on an entirely new solution — a decentralized exchange for ERC-20 tokens based on the Dutch auction principle, called the DutchX.
ORGANIZER – BLOCKCHAIN CIRCLE
The Crypto Spotlight meetup series is powered by the Blockchain Circle, a full year blockchain crash course for corporates. The Crypto Spotlight meetup series will introduce you to some of the most exciting crypto startups.
PARTNER – THE FAMILY
The Family is a long-term strategic investor supporting 250 startups in Europe through education, services, and capital.
---
PLEASE RESERVE A FREE EVENTBRITE TICKET TO ACCESS THIS MEETUP. THE AMOUNT OF TICKETS IS LIMITED AND YOU CAN ONLY ACCESS THE EVENT WITH A VALID TICKET. Reserve your Ticket here: https://www.eventbrite.de/e/crypto-spotlight-brickblock-tickets-44141485371